Founder Sarah Scott
admin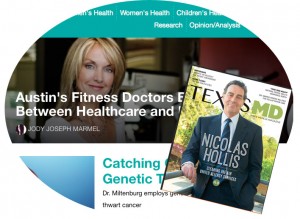 Featured in Texas MD: Austin's Fitness Doctors Bridge the Gap Between Healthcare and Fitness.
"Citius, Altius, Fortius," or Faster, Higher, Stronger is an Olympic motto from the 1920s that Sarah Scott, Founder of Fitness Doctors in Austin, Texas, lives by in both her professional and personal life.
Born and raised in San Antonio, Texas, Sarah has always been a fitness and athletics enthusiast. At an early age, she was fascinated with books on Olympians and the Olympic games. "For me, they represented the pursuit of the intangible elements described by the Olympic motto — Faster, Higher, Stronger. Another Olympic motto near and dear to me is 'The most important thing is not to win but to take part.' Both of these embody all that has ever resonated in my work and my play," explains Sarah proudly.
Sarah comes from a legacy of teachers, engineers, physicians, and entrepreneurs who value learning and a lifetime of continuing education, so it's no surprise that she embodies traits from all of the above. Indeed, her great-, great-, great-grandfather was one of the first doctors in the state of Texas.
"I am fond of telling my clients that my only job is to call out your grace, power and strength. Your only job is to show up and be willing to flourish!" – Sarah Scott, Founder of Fitness Doctors in Austin
Before Fitness Doctors was created, Sarah worked as an executive marketing director for a traumatic brain injuryrehabilitation corporation that specialized in a multi-disciplinary approach to help people recover from debilitating injuries so they could live as independent as possible. She recounts, "That experience greatly influenced the way I've set up our trademarked functional strength, flexibility and balance training methods to date."
Fitness Doctors, originally called IronSmith Body, has been strengthening lives since 1989. They were the first free-standing personal fitness and sports training company incorporated in both the city of Austin and the state of Texas. Fitness Doctors, Austin's premier post-rehabilitation personal training, specifically assists people in restoring strength, balance, flexibility and mobility, while easing the pain of previous injuries in a fun, supportive setting.
What also sets the Fitness Doctors apart from other fitness programs is their approach to specialized and post-rehabilitation training. Doctors now strongly recommend strength training both before and after surgery. "The purpose of both pre- and post-rehabilitation exercise training and education is to restore strength, balance, flexibility and function for optimal living. It is important to note that post-rehab does not purport to provide any aspect of medical treatment for a client's condition. Post-rehabilitation training at Fitness Doctors bridges the gap between healthcare and fitness," shares Sarah enthusiastically.
The definition of post-rehabilitation services is: the development and implementation of fitness and conditioning services for clients with special population and post-rehabilitative disorders. The Fitness Doctor's post-rehabilitation programs provide fitness assessments, strength and flexibility training, spinal stabilization training, and hypertension and diabetes training.
These services make up the post-rehabilitation "scope of practice." The Fitness Doctor's goal is to take over where your doctor or therapist has left off.
They work closely with medical professionals to establish the appropriate protocol while keeping them well informed of your post-rehabilitation training. Some of the conditions they work with are: total knee and hip replacement, diabetes, lumbar disc herniation and strain, carpal tunnel syndrome, rheumatoid arthritis, patello-femoral syndrome, osteoarthritis, knee meniscus tears, ACL ruptures and reconstruction, Achilles tendon ruptures, cerebrovascular accidents and cervical strain, among many others.
"At Fitness Doctors, we offer personalized group fitness training. It's called 'personalized' because there are six to eight people in the same training hour working with an experienced and multi-certified master trainer who provides the necessary individualized coaching, instruction and training plan," explains Sarah warmly. Every session is tailored to each person, and the monthly training fees are half the cost of one- on-one personal training sessions. Every participant in the class learns from everyone else, and they all benefit from the knowledge and training education that is shared.
"This is the new face of fitness. It is more about obtaining optimal function, than how you look in a mirror. My motto is 'Strength First, Fat Loss Second.'"– Sarah Scott, Founder of Fitness Doctors in Austin
Sarah's goal is to redefine what fitness looks like and make it more about what it feels like. "This is the new face of fitness. It is more about obtaining optimal function, than how you look in a mirror. My motto is 'Strength First, Fat Loss Second.' It is about gaining energy, reducing pain, increasing bone density, getting your balance back, and maintaining the stamina for doing the things that you love," beams Sarah.
There are innumerable ways the programs offered at Fitness Doctors work. They adapt the programs to the needs of each individual whether they are training one-on-one, in small groups, large groups or on their own. Fitness Doctor's endeavor is to build a strong community where everybody can be strong, flexible and balanced. Sarah believes that "the reason you strengthen and condition is to develop what you need in order to do all the things you enjoy in life. The best exercise is the one that you love to do; so do that!"
Sarah says that above all else, "Stay strong to stay on your feet to enjoy your life to the fullest…I am fond of telling my clients that my only job is to call out your grace, power and strength. Your only job is to show up and be willing to flourish!"
Read Full Article in Texas MD Magazine.

Actions do speak louder than words and Sarah possesses a strong bias towards exactly that, action. An accomplished innovative entrepreneur in the fields of medical rehabilitation, education, event planning, sales, sports medicine, fitness, health, personal training, sports conditioning, consulting and coaching; Sarah is energetic professional force with a proven consistent record of developing strategic initiatives and partnerships, relationships. She is revolutionary in her approach to business systems and the proof is in the results. She has a reputation of significantly growing and improving operations management, market share and profits.
With over 15 years of diverse experience as a motivational sales trainer and educator as well as fitness entrepreneur, Sarah is taking it to the streets again with Fitness Doctors and the innovative post-surgical therapeutic fitness program, Fit Camp. Her expertise in medical exercise ranging from post surgical and post rehabilitation training, exercise physiology, kinesiology, athletic sports conditioning, sports medicine, disease management, to traumatic brain injury and stroke has well prepared her for her latest fitness venture. Fitness Doctors is the everything Sarah has learned from the past and everything she looks forward to for the future in fitness and exercise. She lives to inspire others to be the best they can be and truly embraces the importance of healthy mind and body through guided and comprehensive exercise and training with proper form and technique to keep your body fit and fabulous.
Sarah can be reached at 512.647.8719 | email ironsarah@aol.com
Specialties: Significant experience in relating to marketing, event planning and strategy, trade shows, vendor organization and business development issues with a focus on the Medical Education and Training Sales Teams, Healthcare Marketing, Corporate Brand Management, Integrated Marketing Strategies, Project Management.
Colleges I Have Worked With
Founder and Personal Fitness Instructor, Sports Conditioning & Triathlon Coach
LPGA-USGA Girls Golf Day Strength & Conditioning Instructor
MA, The University of Santa Monica
ON TOUR with: Shawn Colvin
Strength & Conditioning Coach for St. Edward's University Women's Basketball Team
Interim Strength and Conditioning Coach for The University of Texas Womens Basketball Team
Named one of "America's Best Professional Fitness Trainers" by Vogue magazine
More than 23 years experience as a sports conditioning and fitness teaching professional
Power Pipeline Graduate – The Foundation for Women's Resources Premier Leadership Training Program
TXEntre Entrepreneur Nominee – A Project Developed By St Edward's University to Honor Texas Women and Minority Entrepreneurs
ACSM Health Fitness Instructor
NASM Certified Professional Fitness Trainer
USA Triathlon (USAT): Level 1 Certified Coach
Cancer Exercise Specialist: Certified Exercise Specialist
Cooper Clinic Institute for Aerobic Research: (CPFT) Certified Personal Fitness Specialist
American Academy of Fitness Professionals (AAFP): Medical Exercise Specialist
American Council on Exercise (ACE): Certified Personal Fitness Trainer
National Federation of Professional Fitness Trainers (NFPT): Certified Trainer
American Red Cross Certified in First Aid and CPR