Founder Sarah Scott
admin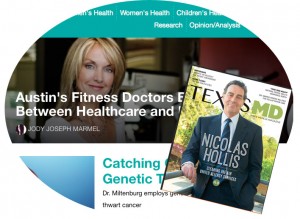 Featured in Texas MD: Austin's Fitness Doctors Bridge the Gap Between Healthcare and Fitness.
"Citius, Altius, Fortius," or Faster, Higher, Stronger is an Olympic motto from the 1920s that Sarah Scott, Founder of Fitness Doctors in Austin, Texas, lives by in both her professional and personal life.
Sarah comes from a legacy of teachers, engineers, physicians, and entrepreneurs who value learning and a lifetime of continuing education, so it's no surprise that she embodies traits from all of the above. Indeed, her great-, great-, great-grandfather was one of the first doctors in the state of Texas.
Read Full Article in Texas MD Magazine.

Actions do speak louder than words and Sarah possesses a strong bias towards exactly that, action. An accomplished innovative entrepreneur in the fields of medical rehabilitation, education, event planning, sales, sports medicine, fitness, health, personal training, sports conditioning, consulting and coaching; Sarah is energetic professional force with a proven consistent record of developing strategic initiatives and partnerships, relationships. She is revolutionary in her approach to business systems and the proof is in the results. She has a reputation of significantly growing and improving operations management, market share and profits.
With over 15 years of diverse experience as a motivational sales trainer and educator as well as fitness entrepreneur, Sarah is taking it to the streets again with Fitness Doctors and the innovative post-surgical therapeutic fitness program, Fit Camp. Her expertise in medical exercise ranging from post surgical and post rehabilitation training, exercise physiology, kinesiology, athletic sports conditioning, sports medicine, disease management, to traumatic brain injury and stroke has well prepared her for her latest fitness venture. Fitness Doctors is the everything Sarah has learned from the past and everything she looks forward to for the future in fitness and exercise. She lives to inspire others to be the best they can be and truly embraces the importance of healthy mind and body through guided and comprehensive exercise and training with proper form and technique to keep your body fit and fabulous.
Sarah can be reached at 512.647.8719 | email ironsarah@aol.com
Specialties: Significant experience in relating to marketing, event planning and strategy, trade shows, vendor organization and business development issues with a focus on the Medical Education and Training Sales Teams, Healthcare Marketing, Corporate Brand Management, Integrated Marketing Strategies, Project Management.
Colleges I Have Worked With
Founder and Personal Fitness Instructor, Sports Conditioning & Triathlon Coach
MA, The University of Santa Monica
Strength & Conditioning Coach for St. Edward's University Women's Basketball Team
Interim Strength and Conditioning Coach for The University of Texas Womens Basketball Team
Named one of "America's Best Professional Fitness Trainers" by Vogue magazine
More than 23 years experience as a sports conditioning and fitness teaching professional
Power Pipeline Graduate – The Foundation for Women's Resources Premier Leadership Training Program
TXEntre Entrepreneur Nominee – A Project Developed By St Edward's University to Honor Texas Women and Minority Entrepreneurs
ACSM Health Fitness Instructor
NASM Certified Professional Fitness Trainer
USA Triathlon (USAT): Level 1 Certified Coach
Cancer Exercise Specialist: Certified Exercise Specialist
Cooper Clinic Institute for Aerobic Research: (CPFT) Certified Personal Fitness Specialist
American Academy of Fitness Professionals (AAFP): Medical Exercise Specialist
American Council on Exercise (ACE): Certified Personal Fitness Trainer
National Federation of Professional Fitness Trainers (NFPT): Certified Trainer
American Red Cross Certified in First Aid and CPR